FREE eBook: 101 Powerful Affirmations (worth $47)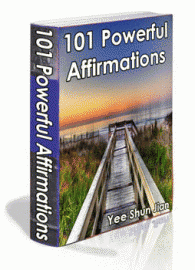 Hi there! Welcome to RichGrad.com =)
Good news! I have prepared a very special life-changing gift for you…
Click here to claim your 101 Powerful Affirmations eBook (worth $47) for FREE now
This eBook contains the very same powerful affirmations that helped me go from being out of a job and over $20,000 in debt to manifesting S$138,255.80 in passive internet revenue from the comfort of my bedroom during the last recession… so you'll definitely want to grab hold of it while you have the chance…
Click here to claim your 101 Powerful Affirmations eBook (worth $47) for FREE now
Besides receiving this amazing eBook, I am also going to give you a FREE subscription to my personal development / law of attraction email newsletter so you can get started on manifesting the life of your dreams too…
Please make sure you stay subscribed to my personal development email newsletter after you sign up as I will be sharing proven tips on how to use your affirmations, case studies and more…
Get Instant Access By Going Here NOW…
To Your Success,
Yee Shun-Jian
Founder & Chief Happiness Officer,
http://101PowerfulAffirmations.com
P.S. Just look at this unsolicited testimonial from one of my 80,000+ active email newsletter subscribers:
"I read the 101 powerful affirmations in front of my mirror and it is helping me a lot. I had breast cancer 3 years ago, so I was going to an oncologist every month and 2 weeks after I said these affirmations he told me that I don't have to see him anymore." – Claudia Gallo
Click here to claim your 101 Powerful Affirmations eBook (worth $47) for FREE now
Tagged as:
Or check out this highly recommended personal development product...
If you've enjoyed this article, please make a small $5 donation to support this blog: