Losing Unwanted Holiday Fat (New Video)
I hope your holidays were filled with friends, family and, I'm sure, lots of great food…
The only problem is that great food usually has a cruel way of adding unwanted extra pounds.
So, please, if you or anyone you love is frustrated with unwanted, excess weight… if you want to enjoy a long, healthy life, then you won't want to miss the information we have for you today.
I do believe it will improve your health, and might very well save your life or the life of a loved one.
In a private video, THE first of 4 we have in store for you, Dr. Mark Stengler, the only doctor whose natural healing newsletter is published by Bottom Line/Health, shares his own safe, patient-proven methods for losing weight quickly AND keeping it off (at last!).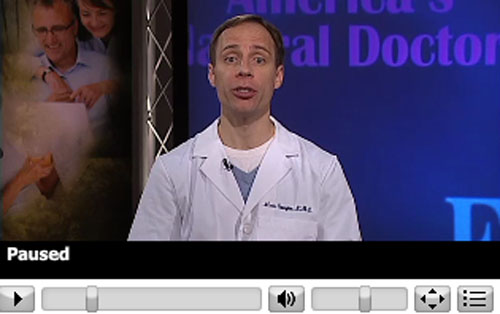 Hear America's Natural Doctor™ Share His Latest Weight Reduction Advice
In this exclusive, brand new video, you'll learn:
* How to easily and safely lose 9 pounds a month without even thinking about dieting or exercise.
* How to drop those extra pounds naturally, while feeling good and enjoying more energy.
* How an affordable and readily available natural "appetite killer" is shockingly powerful and actually good for you.
* How a common mineral acts like a "magic pill" to make you thin and help to reduce your sweet cravings.
* And Much More!
Also, in the next few days, you'll receive, at no charge, more of Dr. Stengler's safe, natural 'video' solutions for:
– Soothing the mind, fixing a faulty memory and erasing brain fog
– Halting the 'Runaway Hormones' that cause so many mystery conditions (For Women and Men)
– Improving your digestion and the 20+ conditions throughout the body that poor digestion can cause or even make worse
Learn How To Lose Those Unwanted Pounds Naturally!
If you don't know Dr. Mark Stengler, he's the author or coauthor of 17 books, including the best-selling Prescription for Natural Cures, Prescription for Drug Alternatives, and The Natural Physician's Healing Therapies.
He's also a master of both Western and Eastern medical treatments and sees over a thousand patients each year in his Encinitas, California practice (from children to celebrities, seniors to professional athletes.)
There's nothing to buy and there is no cost, just an easy to understand video presentation that shares incredible information that I know you will benefit from.
Tagged as: Dr. Mark Stengler · Natural Weight Loss
Or check out this highly recommended personal development product...
If you've enjoyed this article, please make a small $5 donation to support this blog: