In God We Trust – A Revelation of God's Grace, Blessings and Abundance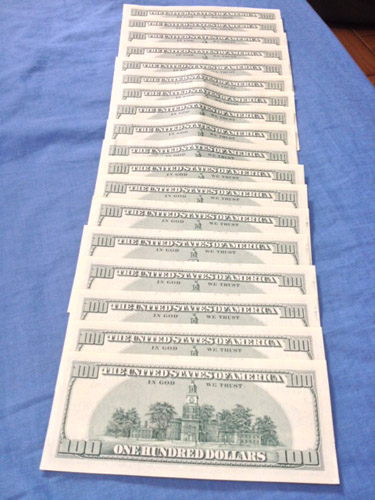 Today, I just want to share a revelation with you…
Even though I live in Singapore, for the past 5 years, I've made almost all of my income in USD.
They've come via direct deposit/checks that are automatically converted to SGD when I bank it in or lay dormant in my Paypal account as numbers prefixed with the letters USD… what this means is… I've never really needed to handle any physical USD notes at all.
Today, as I'm making some last minute preparations for my 2nd US trip within a month, I examined the physical USD notes (I received from the money changer) in my hands more carefully and saw the words "In God We Trust"
All these years, I've been abundantly BLESSED by HIM without even knowing it!
Remember… GOD is our SOURCE. Put your TRUST in HIM and you WILL see your breakthroughs… Be they mentally, physically, emotionally, spiritually or financially.
In my 5 years of entrepreneurship, I've made my fair share of mistakes. Last year, I didn't seek wisdom from HIM and lost almost all of my money through risky investments.
But guess what? HE has been faithfully restoring everything…
God can turn your MIstakes into MIracles and your MESS into a MESSage. You just need to put your trust in HIM.
I love what Pastor (Joseph) Prince (from New Creation Church) said yesterday in his sermon:
If you find yourself jealous/envious of somebody else because it seems that they have something you want that you currently don't have (such as a healthy relationship/financial abundance), be aware that that means you are not trusting God enough. Our God is an abundant God and HE can and will give you whatever you dare ask of HIM. So instead of envying somebody else, be encouraged that God is manifesting Blessings, Favor and Miracles in that person's life and pray and ask God for BLESSINGS for you and your own family.
I hope you've been blessed by today's message. Feel free to leave a comment to let me know your thoughts.
To Your Success,
Yee Shun-Jian
Founder & Chief Happiness Officer,
RichGrad.com
ReadyFireIM.com
Christian-Affirmations.com
101PowerfulAffirmations.com
P.S. If you haven't already done so, please subscribe to my FREE Personal Development Email Newsletter (You'll receive my 101 Powerful Affirmations eBook worth US$47 for FREE) and my FREE Daily Blessings Email Newsletter
Tagged as: God and Money · Joseph Prince · Money and God · New Creation Church · Relationship with God · Relationship with God and Money · Relationship with Money
Or check out this highly recommended personal development product...
If you've enjoyed this article, please make a small $5 donation to support this blog: