Be a "Messenger of Light" and stand to win COOL Personal Development Products!
Contest Update (24 Nov 2011): Get the full details of the 101 Powerful Affirmations Facebook Positivity Movement Contest + Prizes HERE
I have AWESOME news for you today… as always =)
As you may already know, I've set up a facebook community/fan page to share my affirmations as well as positive, inspirational and motivational quotes: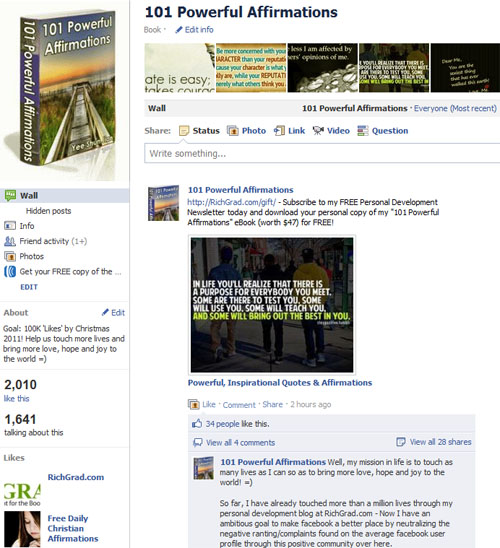 https://www.facebook.com/101PowerfulAffirmations
Since my last email to you about this positive facebook community (about 1 week+ back), it has received 1,980 'likes' and the powerful, inspirational quotes and affirmations from the community has been shared with and exposed to more than 100,000 people!
Taking into consideration that it took me 4 years to touch 1 million lives with RichGrad.com this is totally amazing and mind-blowing!
And it has also led me to set a WILDLY ambitious goal…
My goal is to garner at least 100,000 'likes' for the 101 Powerful Affirmations facebook community by Christmas (25 December 2011) so that we can touch even more lives and bring more love, hope and joy to the world!
Specifically, the intentions behind the 100K 'likes' (in 2 months) goal are:
1) To increase the visibility of this positive community and spread powerful, inspirational messages across facebook to neutralize all the negative ranting/complaints found on the average facebook user profile.
2) To show and inspire people that yes it's a very ambitious goal but as long as we do our parts and take positive action towards our goals, we're going to see results!
I obviously need your help since this is something I can't possibly do on my own!
So this is how you can help…
1) Choose to be a "messenger of light" and share pictures (that speaks to you) in the "Powerful, inspirational quotes and affirmations" photo album (by clicking the 'share' link, found beside the 'comment' link, below the pictures) as well as status updates from the "101 Powerful Affirmations" community.
2) Tell all your friends about this vibrant community and what we aim to achieve! Here's the direct link to this community: https://www.facebook.com/101PowerfulAffirmations
3) Participate in discussions in the community… Leave comments about the daily affirmations and pictures… Feel free to share your own inspirational pictures and affirmations (no spamming please!)
And of course to reward you for helping me make facebook/the world a better place for everyone to live in, here's a little incentive…
I'll be running a CONTEST to "reward" the most active "messengers of light".
Right now, I'm in the midst of tying up with sponsors to give away some pretty cool personal development products and prizes!
So far, on board are MindZoom (they have generously vouched to sponsor 3 copies of their latest Mindzoom Subliminal Affirmations Software 2.0 worth $47 each) and Mind Movies (who's sponsoring a copy of their latest Mind Movies Creation Kit version 2.1 worth $97).
To stand a chance to win these and many other cool personal development products, you need to:
1) Subscribe and stay subscribed to my Personal Development Email Newsletter (what you're reading now!). For your friends / colleagues / family / loved ones who want to take part in this contest, make sure you get them to subscribe here (because I'll be posting more details about this contest via this email newsletter in days to come…)
Alternatively, they can also subscribe through the facebook page by entering their name and email in the opt-in form there.
2) And be a "messenger of light" as discussed above (build buzz about the 101 Powerful Affirmations community!)
I'm sooooooooooooooooo excited… Are you?
We are about to change the world… in a totally awesome way…
You now have an important choice to make…
Ignore this message and life goes on as usual…
Take action and help make the world a better place… and stand a chance to win fabulous prizes that will help you grow and achieve your own goals!
As always, I'll leave it for you to decide… But of course, I'm hoping you won't be one of those apathetic guys… because the world can do with more lightworkers!
So yeah… this is me declaring to all you guys my CRAZY goal of garnering 100K 'likes' (in 2 months!!) for a brand new facebook community and touching million more lives in the process and helping to change the world in a dramatically profound way and hoping some of you will bite and jump on board with me…
It's alright if you don't even care about the contest! Let's just start and continue to share the love, happiness and positive energy okay?
Say 'YES' and let's DO IT!
To Your Success,
Yee Shun-Jian
http://RichGrad.com
Personal Development for the Book Smart
P.S. I'm just a CRAZY guy who thinks he can change the world… Won't you be my "partner in crime"? =)
https://www.facebook.com/101PowerfulAffirmations
P.P.S. Share this blog post so more people know about this contest and my CRAZY goal to infect the world with POSITIVITY!
Tagged as: 101 Powerful Affirmations Facebook Community Contest · facebook 101 powerful affirmations · facebook contest · facebook positive affirmations · facebook Positive Inspirational Quotes · facebook positive outlooks · facebook positive quotes · facebook Positively Positive · facebook Simply Positive · Let's make facebook a better more positive place! · lightworker · messenger of light · personal development prizes · personal development products
Or check out this highly recommended personal development product...
If you've enjoyed this article, please make a small $5 donation to support this blog: