How to influence anyone to do anything 2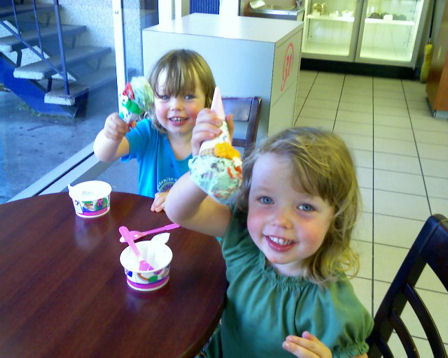 These Kids Get It
Photo by Chuck Currie
In How to influence anyone to do anything, I shared with you Dr. Robert Cialdini's 6 weapons of influence. Today, I'm going to let the man himself tell you more about these powerful laws of persuasion and answer the following questions:
1) If you have two options to present to a client, which should you present first? The more costly or the less costly one?
2) Is it better to tell prospects what they stand to gain by moving in your direction or what they stand to lose if they don't?
3) If you have a new piece of information, when should you mention that it's new? Before or after you present this information to your audience?
4) If you have a product, service or idea that has both strengths and weaknesses, when should you present the weaknesses? Early or late into the presentation?
5) After someone has praised you, your product or your organization, what is the most effective thing you can do immediately after you have said "Thank You"?
6) To arrange for someone to like you and want to cooperate with you, what is the single most productive thing you can do before you try to influence that person, to like you and cooperate with you?
In this first video, Dr. Cialdini gives an introduction on compliance and talks about the law of reciprocity.
In the second video, Dr. Cialdini continues elaborating on the law of reciprocity and how to use it effectively.
Dr. Cialdini talks about how to negotiate and get people to say "yes" to you. He also talks about the principle of scarcity in this third video.
In the fourth video, Dr. Cialdini continues talking about the application of the principle of scarcity and goes on to explain the principle of authority. He also briefly touches on Commitment and Consistency.
In this fifth and final video, Social Proof and the principle of Liking are explained. Dr. Cialdini answers additional questions and demonstrates the law of reciprocity "live". Don't miss this one!
I hope you enjoyed the videos. Do share your own experiences of applying these powerful laws of influence and persuasion with me, ok?
NOTE: The videos are no longer available on youtube =( but you can read How to influence anyone to do anything to understand the principles =)
Other Highly Recommended Persuasion/Influence Resources
The Power Of Conversational Hypnosis – Discover A Rebel Psychiatrist's Amazing Secret That Lets You Put People Under Your Spell Quickly and Easily … and Get Them to Do Anything You Want
Underground Hypnosis Course – Learn Secrets that Most People will Never Know about Hypnosis
***************
Love this article? Sign up for my FREE Personal Development Email Newsletter today to receive more articles like this!
Tagged as: Authority · Cialdini · Commitment and Consistency · Dr Cialdini · Influence · Law of Reciprocity · Liking · negotiation · Persuasion · Psychology · Robert Cialdini · Scarcity · Social Proof
Or check out this highly recommended personal development product...
If you've enjoyed this article, please make a small $5 donation to support this blog: