Jim Rohn – In Memory Of A Great Man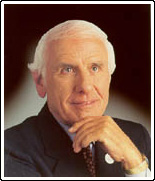 "Asking is the beginning of receiving. Make sure you don't go to the ocean with a teaspoon. At least take a bucket so the kids won't laugh at you." – Jim Rohn (1930 – 2009)
Jim Rohn, one of the greatest personal development legends of our time, passed away peacefully on 5th December 2009.
A mentor to many – Tony Robbins, Mark Victor Hansen, Brian Tracy and Jack Canfield among others – Jim Rohn will forever be etched in our memories in the personal development hall of fame.
To me, Jim was an honest to goodness mentor who delivered truth with a wicked sense of humour.
The personal development world has just lost a great man… but I'm sure Jim Rohn's legacy will not be forgotten for decades to come…
Here's a tribute to a true legend…
R.I.P. Jim Rohn…
Incoming search terms:
Tagged as: In memory of Jim Rohn · Jim Rohn · Jim Rohn died · Jim Rohn passed away · Jim Rohn Quotes · Jim Rohn's Death · Tribute to Jim Rohn
Or check out this highly recommended personal development product...
If you've enjoyed this article, please make a small $5 donation to support this blog: