The FAQ Book on Public Speaking
*Wait no more! The FAQ Book on Public Speaking is available for RichGrad.com readers now!*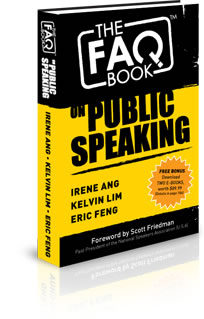 Do you have a fear for Public Speaking?
Well guess what? You are not alone. It's a well-known fact that people fear public speaking more than death! But you know what the ironic thing is? Public Speaking is one of the most lucrative careers out there.
That's right. Speakers like Anthony Robbins earn more addressing a few thousand people at one time for 3 hours than what most folks make slogging it out for years in their jobs.
I hope you are seeing the picture now.
The opportunity cost for not confronting your fear of public speaking is too great to be ignored. Fortunately, my good friends Eric Feng and Andrew Zhan have put on their thinking caps, superhero capes and ultra red underwear to help you alleviate your fears and become a successful public speaker.
Introducing… The FAQ Book on Public Speaking!
Yes, I'm one of the fortunate ones to get to read and review this book before its official launch. Well, what can I say? Having known Eric for close to 5 years now, it's not surprising to see the same brand of humor injected into the book as when I hear him speak "live" in front of hundreds of people.
Just look at the preface to the book:
Warning: Reading the book and applying the secrets will make you a successful public speaker. Get used to the applause, compliments and standing ovations. Audience not included.
If you are able to handle the fun and casual tone and look past the crazy and shameless self promotions from Eric and Andrew (get used to it!), you would realize that The FAQ Book on Public Speaking is actually jam-packed with lots of thought-provoking anecdotes and serious practical advice to help you along the journey towards becoming a popular and respected public speaker.
In fact, let me just share 5 quick tips from The FAQ Book on Public Speaking on becoming a great speaker:
1) Stage time, Stage time, Stage time
You can read all the books on public speaking in this world but nothing's going to happen unless you go ahead and apply what you learnt. Don't be just a learner, be a doer and make use of the tips from the book. That's definitely the fastest way to become a better speaker!
2) Get yourself a mentor
All successful people have mentors. Need I say more?
3) Be sincere
Speak with the intention to help your audience. Your sincerity will naturally shine through.
4) Content is King!
When you get up that stage and speak, realize that you are taking up people's precious time. Always make sure that you have quality content that your audience can benefit from. Remember this question every time you make a speech: "What's in it for them?"
5) Observe winners (and Losers)
Many people tend to only look at the winners so that they can model their success. It's equally important to observe the "losers" so you know what NOT to do when you are up on that stage.
*****
I'm sure by now you must be feeling really excited and can't wait to get your hands on The FAQ Book on Public Speaking. The official launch is less than 2 hours away but you need not wait! As a RichGrad.com reader, you get to be one of the first to lay your hands on The FAQ Book on Public Speaking!! Need I say more?

***************
Love this article? Sign up for my FREE Personal Development Email Newsletter today to receive more articles like this!
Tagged as: Andrew Zhan · Anthony Robbins · Eric Feng · FAQ Book on Public Speaking · Presentations · Public Speaking · Tony Robbins
Or check out this highly recommended personal development product...
If you've enjoyed this article, please make a small $5 donation to support this blog: