How I made USD100 in 1 second and how you can do it too
I made US$100 last Friday… just by showing up at a seminar.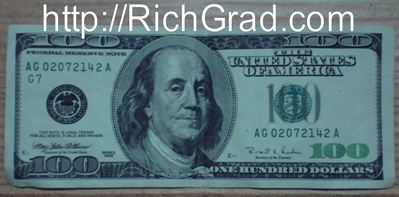 Oh wait… hundreds of people showed up at the seminar as well but they didn't make that kind of money.
So let me start all over again… Showing up was the first step.
Showing up allowed me to see the opportunity. But seeing the opportunity is one thing, seizing the opportunity is another thing all together.
Of the hundreds of people at the seminar, how many do you think acted when the opportunity presented itself?
Come on… give it a rough guess. 50? 100?
Nah… the answer? About 5.
Interesting huh? But doesn't it reflect on real life? When a money-making opportunity comes along, perhaps only a handful of people get to see it, because of being in the right place at the right time. However, is everyone going to act on it?
NO!
Perhaps some feel that the amount of money is too little. Perhaps others feel that they can't run fast enough. Perhaps the majority choose to give up even before stepping up to the starting line. Perhaps perhaps perhaps…
Now what does understanding this phenomenon mean?
If you are able to see it too, you will come to understand the opportunity within the opportunity. That's right. Doesn't it mean that you have lesser competition and a higher chance of success?
Indeed…

Within a second, I made up my mind to act on the opportunity and the US$100 was in my hands. No ifs, no else's, no buts.
Opportunities come and go. We either spot and grab them or someone else is going to do it!
Now that you understand all that I have just shared, when the next opportunity comes along, what are you going to do?
Recommended Resource To Help You Attract Financial Abundance
Money Beyond Belief By Dr. Joe Vitale And Brad Yates – Teleseminar Recordings Helping Participants Achieve Money Freedom – Freedom From Limiting Financial Beliefs Using Eft (Emotional Freedom Technique)
***************
Love this article? Sign up for my FREE Personal Development Email Newsletter today to receive more articles like this!
Tagged as: Mindset for Success · Money · Opportunity · US$100 · USD100
Or check out this highly recommended personal development product...
If you've enjoyed this article, please make a small $5 donation to support this blog: