Too Soon Old, Too Late Smart, Thirty True Things You Need To Know Now
Look what I got in the mail!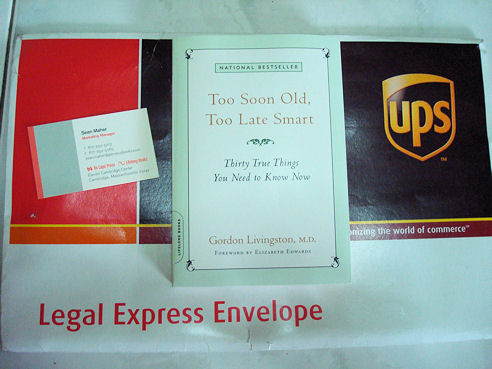 Lol… Actually, I received this bestselling book from Sean Maher of Da Capo Press (Perseus Books Group) in the middle of last month… while I was coaching module 2 of The Patterns Of Excellence (Yes, I have not updated on that yet… Maybe I'll make another posting with pictures for you guys soon).
I promised to do a review of the book ASAP so now that I have the time… here's what I have to say about "Too Soon Old, Too Late Smart – Thirty True Things You Need To Know Now" by Dr. Gordon Livingston…
At first glance, you might be fooled by the simplicity of the book cover and the slimness of the book (It's only 168 pages!). After all, there are no fancy pictures/graphics to grab your attention… At the same time however, there's nothing to distract you from the hard-hitting heart-felt wisdom that Livingston dishes out generously in the form of 30 steadfast truths of life and how best to live it.
Dr. Gordon Livingston, of all people, should know best… Each and every one of the 30 chapters carries the painful life lessons learned as a result of his involvement with the vietnam war, his experiences as a psychiatrist and the untimely and unexpected deaths of his 2 sons.
Especially in this period when I've just experienced the loss of 2 people I know, this book comes as a form of condolence as well as to provide critically sound useful information for me to cope with the grief. It's almost as if the Universe knew something was about to happen… and brought this book into my life to help alleviate the pain (Thank You Universe!)
Like what Livingston wrote… "One of the things that make us human is the ability to contemplate the future. If we are to bear the awful weight of time with grace or acceptance, we have to come to terms with the losses that life inevitably imposes upon us" (p.84)
"Too Soon Old, Too Late Smart" is filled with so many golden nuggets that I wished it came into my life much earlier! Here's another gem I'm sure you can relate to:
"… we tend to be the same people, philosophically and behaviorally, at forty as we were at twenty. This doesn't mean we have learned nothing in the intervening years… we just haven't gained equivalent insight into who we are and why we choose the people we do…" (p.96)
Now I want you to know that "Too Soon Old, Too Late Smart" is not a book you need to read sequentially. The stand-alone lessons allow you the freedom and flexibility to swallow the medicine of your desire… whenever and however you choose…
In fact, I suggest you take the time to savor each chapter before you move on to the others so that the lessons really sink in deep.
I have never endorsed a book so strongly before but "Too Soon Old, Too Late Smart" is a book that I know you must definitely get for your family members, your friends, your loved ones, people you care about and most importantly of all, this is a book you should get for yourself.
This is the best gift anyone can ever give and get… a guide to living your life in the best way possible.
=> Click here to buy "Too Soon Old, Too Late Smart" from amazon now! <=
P.S. As usual feel free to leave a comment and to discuss about the book. If you like this book review, pl give it some social bookmarking love (stumbleupon, del.icio.us etc.)
Incoming search terms:
Tagged as: 30 Life Truths · Dr. Gordon Livingston · Life Lessons · Reviews · Thirty True Things You Need To Know Now · Too Soon Old Too Late Smart
Or check out this highly recommended personal development product...
If you've enjoyed this article, please make a small $5 donation to support this blog: