Meet the winners of the last recession…
… at Wealth Academy Expo 2010 (22nd – 23rd May 2010, Singapore Expo)
This Mega Wealth Creation Extravaganza of the Year is hosted by my mentor and Asia's top success coach Adam Khoo.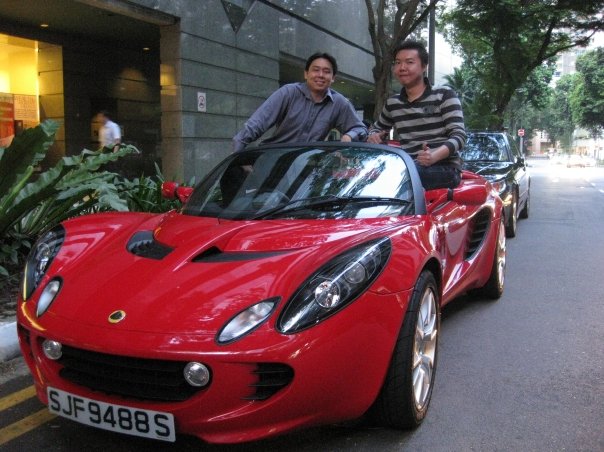 Adam and me (as featured on The New Paper, centrefold, 20th May 2009)
Wealth Academy Expo 2010 features a star-studded cast including…

ADAM KHOO (Asia's Top Success Coach, Best-Selling Author)
Does Value Investing work in the Singapore Market?


CONRAD ALVIN LIM (Wealth Trainer, Professional Online Trader)
Find out How to Position Your Portfolio for the Next 10 Years


JOEY YAP (Fengshui Master, Best-Selling Author)
Maximizing Your Luck and Avoiding Misfortunes in the Year of the Tiger


MERRY RIANA (Millionaire Entrepreneur, MRO Consultancy Pte Ltd)
Planning to be Financially Free
and so on…
For 2 FULL DAYS, the panel of Distinguished Speakers will share with you…
How to Design YOUR Achievable Financial Freedom Plan
How to Position YOUR Portfolio for the next 10 years
Mastering Recession Proof Skills with Currency Trading
Bazi and YOUR Wealth Profile in the Year of the Metal Tiger
Financial Planning…Its importance whether you are young or old!
Harvesting Profits from Crude Palm Oil Futures
Asian Equities…What Stocks To Look Out For?
and much more…
Now, this is a ONE-TIME only event and the Gold Class tickets are already sold out. So you'll need to book your tickets for the remaining seats quick…
All you have to do to is:
Print out the application form and fill up your personal particulars
Email or Fax the completed form back to AKLTG (details in application form)
Here are the details of the event again:
Date: 22nd – 23rd May 2010, Sat – Sun
Venue: Singapore Expo, Hall 3
Time: 9.00am – 8.00pm daily
VIP Ticket Pricing: SGD 199 (usual price: SGD 500)
GOLD Ticket : SOLD OUT!
GENERAL Ticket Pricing: SGD 29 (usual price:SGD 99)
Special Promotion: Add an additional SGD 1 to bring along a friend for FREE!
So what are you waiting for?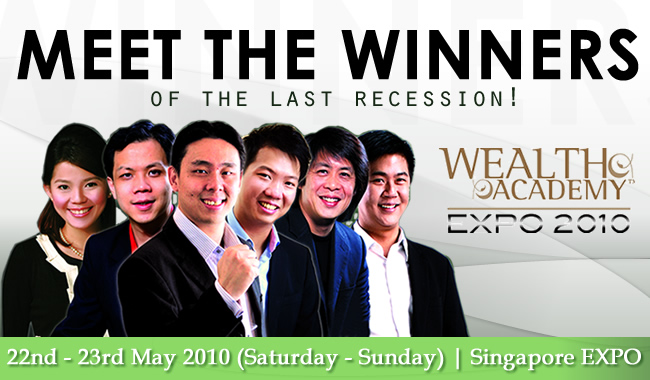 Incoming search terms:
Tagged as: Adam Khoo · CONRAD ALVIN LIM · FABIAN LIM · JASON WEE · JOEY YAP · MERRY RIANA · Wealth Academy Expo 2010 · Wealth Creation Seminar · Yee Shun Jian · YEO KEONG HEE
Or check out this highly recommended personal development product...
If you've enjoyed this article, please make a small $5 donation to support this blog: