How To Get A $1,000 Raise Every Single Month
When I wrote my post on becoming a full-time blogger/internet marketer, i was making $3,252.58.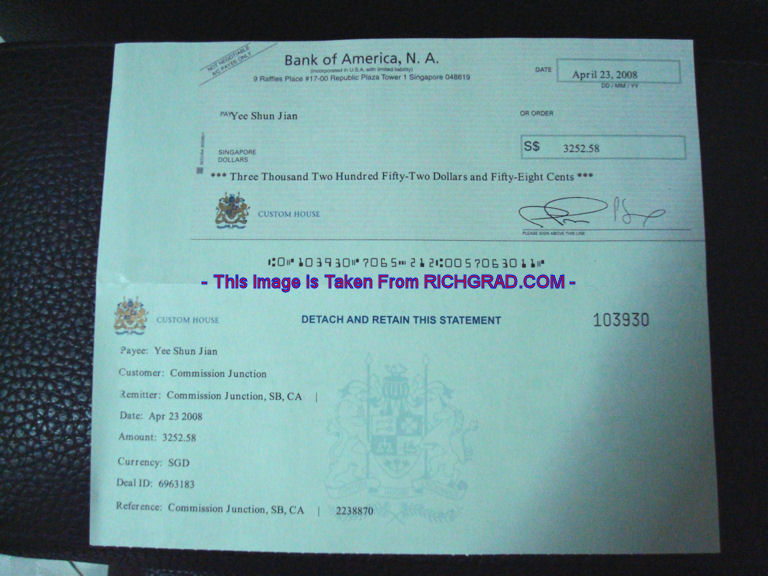 The very next affiliate check I got a month later was $4253.31.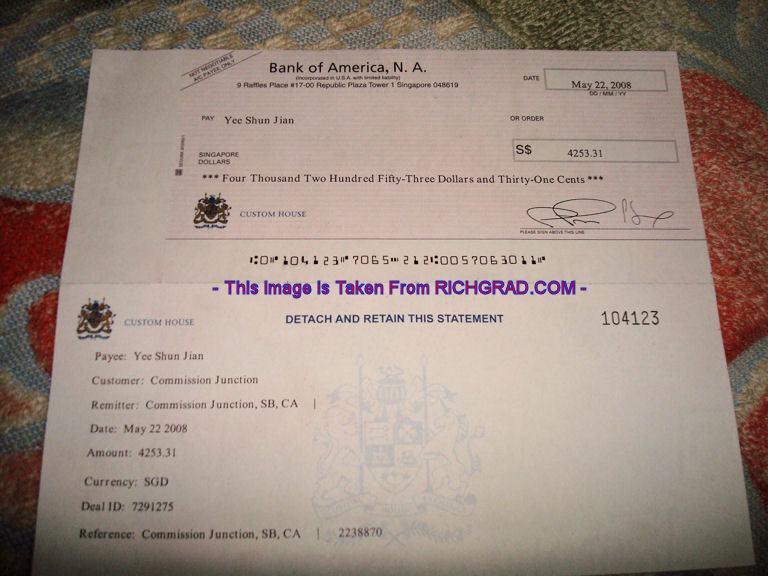 Another check just came in the mail… $5,219.85.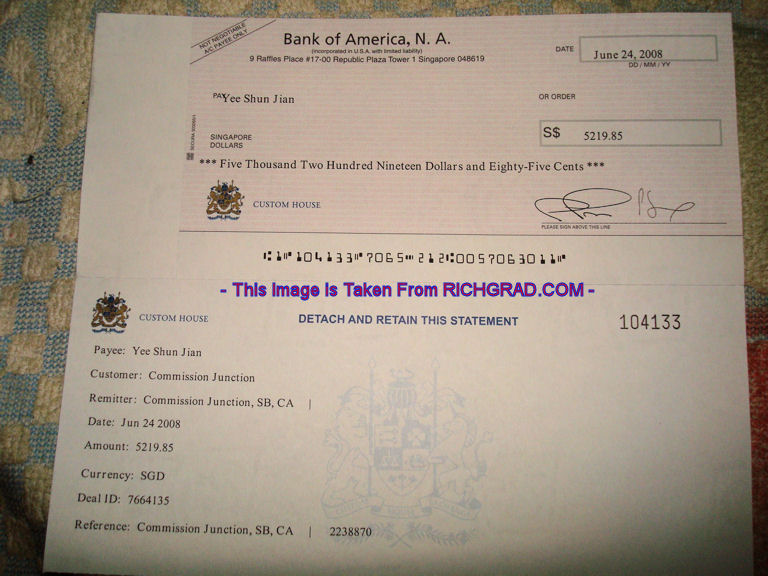 This means that on average, I'm making about $1,000 more month on month.
Not bad… considering that I'm able to do it in the comfort of my own home =)
Now that I've got your attention, I want to share with you 10 success principles I've been following to increase my income by about $1,000 every month:
***
1) Get Rid Of The "Employee Mindset" – Stop Trading Time For Money.
3) Take 100% Responsibility For Your Own Success
4) Do What You Love And The Money Will Follow (I didn't believe it but now I'm living it)
5) Choose The Right (Money-Making) Vehicle
6) Give Without Expecting Anything In Return (You'll soon realize that the more you give, the more you'll receive!)
7) Focus, Focus, Focus! (On what you want, not what you don't want)

8) Work Smarter, Not Harder (Read The 4-Hour WorkWeek by Timothy Ferriss)
9) Use The Law Of Attraction – Ask, Believe, Receive
10) Invest In Yourself (Invest in books, seminars, audio programs, e-books etc. for your own personal development)
***
Let me elaborate on the above points…
Everyone of us has only 24 hours a day, If our strategy is to trade time for money, then there's obviously an inevitable ceiling on the amount of money that we can make.
The shift from trading time for money to building a system that makes us money passively begins with a shift in mindset.
Whether you are employed, self-employed or running your own business, you have to get rid of the "employee mindset".
Now, what is the "employee mindset"?
Let me explain…
When I first started Internet Marketing, I went into it with the "employee mindset".
I ended up using my time to do a lot of unproductive work. I was lost and started looking for someone to give me instructions on what to do and the corresponding deadlines. I spent too much time on mindless tasks, rather than on planning. I thought that as long as I kept myself busy… I was taking another step towards success.
I treated Internet Marketing as a job and not a business… and that was why I wasn't able to achieve much success even after months working at it.
At one point, I almost gave up… I was ready to go back to a "real job"… to take instructions from people and trade time for money… after all, that's what everyone else is doing, right?
Then I asked myself, "Shun Jian, Is that what you really want?"
"NOOOOOOOOOOOOOOOO…"
I wasn't going to waste half a year's effort by throwing in the white towel. I wasn't about to be beaten without a fight… And I sure as hell wasn't going to prove those people who have been laughing at me for giving up my MNC job right!
I remembered Adam Khoo saying "Do whatever it takes!" and "Take 100% Responsibility for your success!"
I remembered T. Harv Eker saying "Focus on what you want, not what you don't want"
That's right… I wanted to make a full-time income online. I wanted to be able to spend quality time at home with my family. I wanted to have all the time in the world to do what I want, when I want with whoever I want… and I was going to take 100% responsibility for my success and do whatever it took…
And so I did…
I began to use Affirmations…
I read up on the Law Of Attraction and started asking the Universe for what I want…
I took up 7th Path Self-Hypnosis and explored EFT…
I started reading numerous self-help books… and continued to attend Personal Development seminars.
In fact over the past one year… I've spent about $20,000 on seminars (with credit card loans – not for the risk-averse) and read over 200 books on Personal Development, NLP, Psychology, Success, Marketing, Copywriting, Public Speaking, Spirituality, Therapy, Time Management, Internet Marketing and Life.
Then I applied the success principles I learned and money and opportunities started pouring in…
I began "working" less and earning more… (I use " " because I don't see what I'm doing as work)
I freed up my time which enables me to use it to empower others through life coaching.
I had the honor to meet up with and exchange ideas with like-minded individuals passionate about personal development and taking their success to the next level.
And the best part? I'm doing what I love… every single day =)
I'm living the kind of life I was only dreaming about not too long ago… and it all started with a simple but critical shift in my mindset.
Please… don't be fooled by the simplicity of the principles I just shared with you… They are extremely powerful and work 100%… I know because I've tested them out myself.
I hope my story will inspire you to do what it is that you need to do to get where it is you want to go.
Please stumble this post and/or add it to your favorite social bookmarking sites if you like it. Thanks! =)
P.S. If you're interested in such topics as the law of attraction, goal-setting, affirmations and the like, feel free to subscribe to my FREE personal development tips newsletter, where I'll cover these areas in more depth.
Tagged as: 10 Success Principles · 7th Path Self-Hypnosis · Blogging · Dawn Yang · EFT · Employee Mindset · inspiration · Internet Marketing · Making A Full Time Income Online · Making Money From The Internet · Motivation · Personal Development · Wealth · Xiaxue
Or check out this highly recommended personal development product...
If you've enjoyed this article, please make a small $5 donation to support this blog: